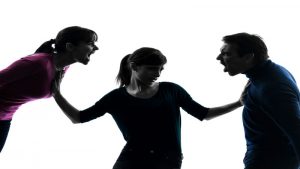 Domestic violence is a very serious situation that requires the assistance of experienced domestic violence lawyers in Lebanon County. Individuals who have been victims of domestic violence need to feel safe and protected from their abuser. Domestic violence can occur between current or former spouses, domestic partners, individuals in a current or former romantic relationship, family members, and by the parents of a child. Individuals who are accused of domestic violence should also protect themselves against accusations because they could lose the right to see their child, be removed from their home, and be prohibited from being in the same location as the individual they're accused of abusing.
Domestic violence is different than assault or battery. When an alleged victim contacts the police for help, the accused individual will be removed and arrested. A victim cannot drop the charge. A prosecutor will decide if they want to press charges. The domestic violence law in Pennsylvania includes knowingly, intentionally or recklessly causing bodily injury of any kind. It can also include causing fear of bodily injury. This could include rape, abusing a minor child, stalking, and any other behavior that makes an individual afraid of being harmed.
Depending on the abuse that's been committed, the penalty could range from anger management classes to a felony. The defendant's pattern of conduct and the abuse they've committed will determine their penalty. An individual that has been accused of domestic violence has various defenses they can use such as lack of knowledge or intent of the crime and many others. In some cases, an individual may be falsely accused of domestic violence during a divorce proceeding. This usually occurs when one party is trying to gain leverage against the other individual. An individual who has been a victim can file for a Protection from Abuse order, which is also known as a PFA. Domestic violence lawyers in Lebanon County can guide them through this process and explain how a PFA can help to keep them safe.
If you've been accused of or have been a victim of domestic violence, please contact the law office of Melissa R. Montgomery. They can defend and protect your rights throughout the court proceeding. Violation of a PFA could result in jail time.